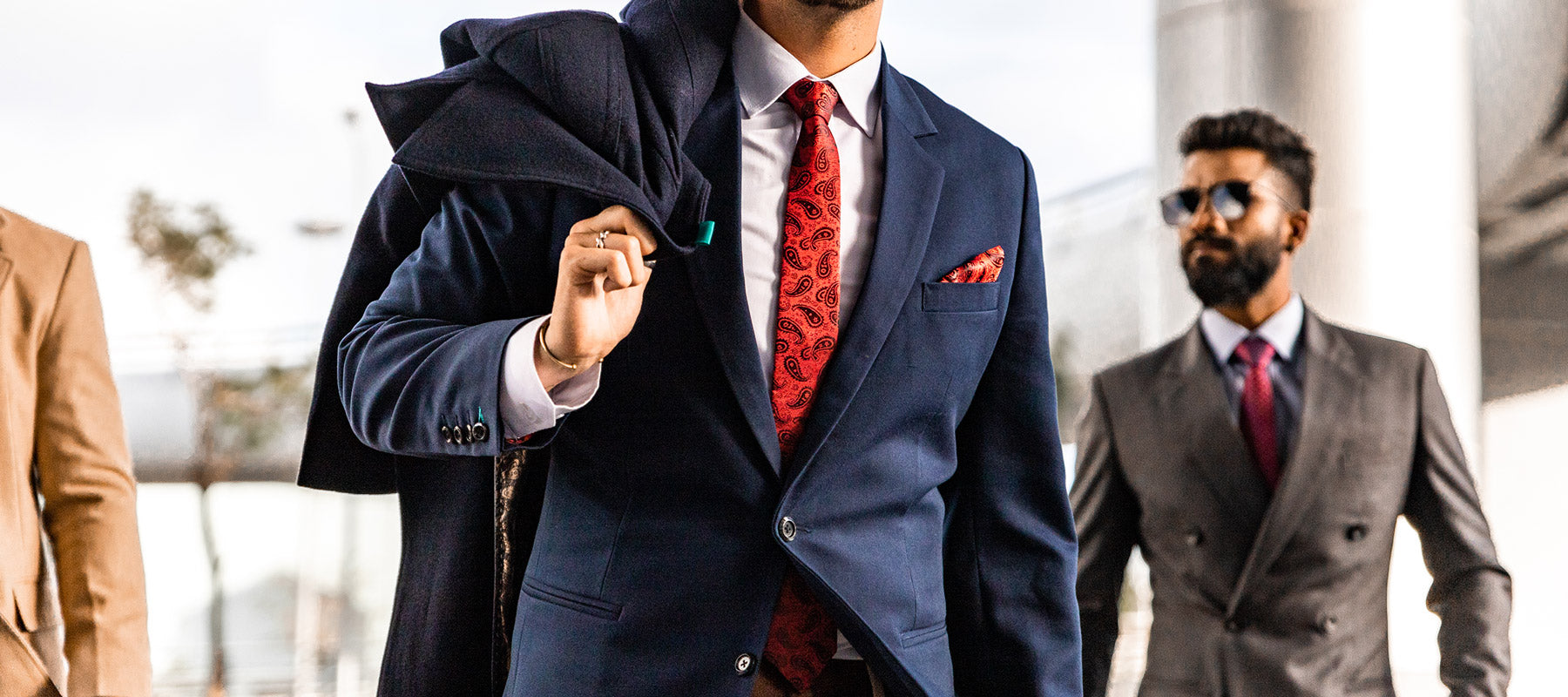 Custom made
Business Suits
View Fabrics
View Garments
Fabrics
Garments
---
Find the Perfect Business Suit from the Interview to the Boardroom
Find the perfect business suit for interviews, board meetings, or day-to-day work at the office that showcases your professional style and makes a statement. A well-fitted and tailored custom suit elevates your confidence and ensures you look your best in any professional setting.
When shopping online through SARTORO, you can browse our options by style, colors, and fabric - finding the perfect suit has never been easier. Whether you prefer a classic or modern fit, a neutral or bold color, or a comfortable fabric like wool or breathable cotton, you can browse and select the right combination to match your personal style and professional image.
The right business suit for any situation
All SARTORO suits are custom made to order with a guaranteed fit. From classic black to bold blues and timeless grays, there's an option for everyone and every situation.
Choose a suit that fits the formality of your workplace, whether it be a sharp three-piece suit for board meetings or a more relaxed jacket and trouser combo for casual Fridays. You'll find all of these at SARTORO, including:
Executive three piece business suits.

a great option for formal business settings, important meetings, job interviews, and other professional events where a sophisticated and polished look is required. The addition of the waistcoat gives the suit a formal edge, making it perfect for occasions where you need to make a statement and project a commanding presence. Whether you're a high-level executive or a job seeker looking to make a great first impression, an executive three piece suit can help you stand out as a confident and capable professional. A vest or waistcoat can be added to any SARTORO suit.

Casual but refined cotton business suits.

Casual but refined cotton business suits are the perfect choice for those who want to look sharp and professional while maintaining a comfortable and relaxed style. These suits are ideal for day-to-day work in the office, as well as business meetings, networking events, and other occasions where a more laid-back dress code is appropriate. Made from lightweight and breathable cotton fabrics, these suits are comfortable to wear, even during the warmer months. They come in a variety of colors and patterns, so you can choose the one that best suits your personal style and taste.

Business jackets and blazers.Business jackets and blazers are versatile and essential pieces of any professional wardrobe. They are perfect for adding a touch of sophistication and style to any outfit, whether you're wearing them with dress pants, jeans, or chinos. These jackets and blazers are suitable for semi casual occasions, and with their timeless and classic appeal, business jackets and blazers are a must-have for any working professional.

Modern business suits. Sartoro's modern business suits offer a contemporary twist on classic styles, making them the perfect choice for the modern professional. With a range of style options to choose from, including slim or regular fits, notch or peak lapels, and single or double-breasted designs, you can create a suit that is tailored to your unique style and preferences.
The Fastest Shipping In The Custom Suits Industry
No more waiting for months for a high quality custom business suit. SARTORO offers three week shipping standard, with two-week priority service available at checkout. Getting measured and fitted is just as easy with our Digital Tailor. All SARTORO business suits are tailored with excess fabric inside to allow for alterations in both directions. Coupled with a fit guarantee, you can shop confident knowing you're going to get a business suit you'll love wearing to interviews, the office, meetings and everywhere in between.
---