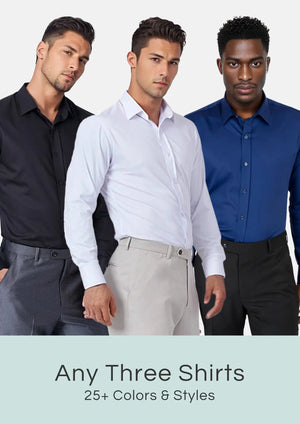 Elevate your fashion game with our exclusive wardrobe transformation package. "The Wardrobe Refresh" is your ticket to a world of sartorial excellence - at massive savings of up to $800 off retail.
This curated collection includes not one, but two bespoke custom suits, meticulously tailored to your unique preferences. These suits are your armor of confidence, your statement of style.
You'll also get to select a luxurious wool coat, exuding sophistication and warmth, perfectly adaptable to any occasion. This coat is your shield against the elements and a symbol of timeless elegance.
Dive deeper into this style journey, where you get to choose three shirts that align perfectly with your personality. Whether it's a crisp white classic, stylish linen, or a bold hue, these shirts are your canvas for self-expression.
And for the finishing touch, two pairs of stretch chinos of your choice await you. Versatile, comfortable, and effortlessly cool, they're the embodiment of modern-day style guru.
"The Wardrobe Refresh" isn't just an upgrade; it's a lifestyle shift. It's about empowering your individuality and embracing a world of choices that are exclusively yours. Redefine your style, elevate your confidence, and be the best-dressed version of yourself with "The Wardrobe Refresh" - where fashion meets your unique vision.
Retail Price for everything: $2300-$2600. You can choose ANY two suits, ANY coat, ANY three shirts and ANY two stretch cotton chinos.
Fit promise
On all orders
Free returns
On 1st orders
Expert support
Schedule a call