What exactly is the difference between a White Tie and a Black Tie dress code? Is White Tie simply just wearing a white tie and vice versa? If only it were that simple. Truth be told, most of us will never attend a White Tie event, as these are usually reserved for royal or diplomatic events. But no matter! Let's learn about the differences between the two.
Ultra Formal Events - White Tie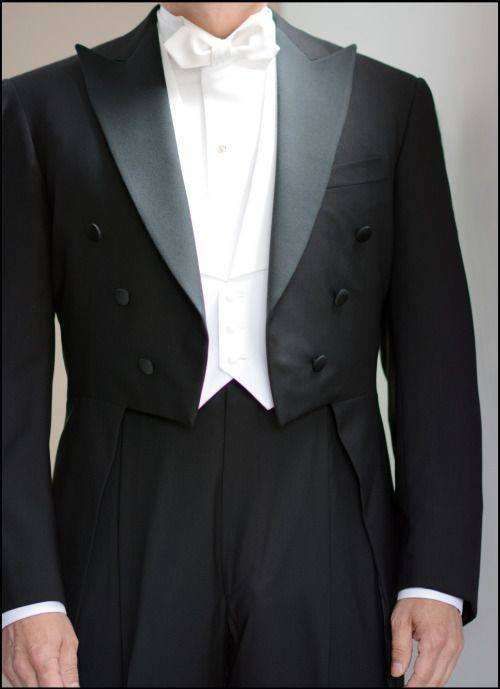 First and foremost, you must wear a bowtie and it must be white. Regular ties are not allowed.
If it's daytime, you wear a morning coat which is single-breasted, has one button, and DOES fasten. If it's an evening / nighttime event, you wear a tailcoat which is double-breasted, cut so small the fronts don't fasten (but still has three buttons on either front), and a facing to its lapels (similar to a dinner jacket). Either coat is generally made of the same material as the trousers, has no hip pockets, an outside welted pocket, and (most likely) two inside breast pockets.
The trousers are required to be high waisted, have two lines of braid along the outside (black tie is only one line of braid), and cannot be too baggy.
Your shirt must be a white (preferably stiff-fronted) shirt, it can be pleated or plain, with a matching stiff collar. A stiff collar is attached at the time of wearing (not permanently attached), so you can purchase a collarless stiff-fronted shirt, with detachable stiff collars purchased separately. The collar is then attached to the shirt by a pair of collar studs.
Your waistcoat (separate from your tailcoat or morning coat) must be a low cut, white evening waistcoat so the shirt is visible, and shorter than the tailcoat so it doesn't stick out under your jacket.
For shoes, it's best to play it safe and stay within the rules, so a nice pair of black patent leather shoes with black laces (preferably black ribbon) is perfect. Paired with some black evening socks and your feet are all set for the event!
When it comes to accessories, you have some options to play around with. You can choose from white gloves, a white scarf, a top hat, a cape, and a dress cane. If you do decide to go with one of these, it's best to keep them simple. You don't need anything too flashy or over the top.
Formal Events - Black Tie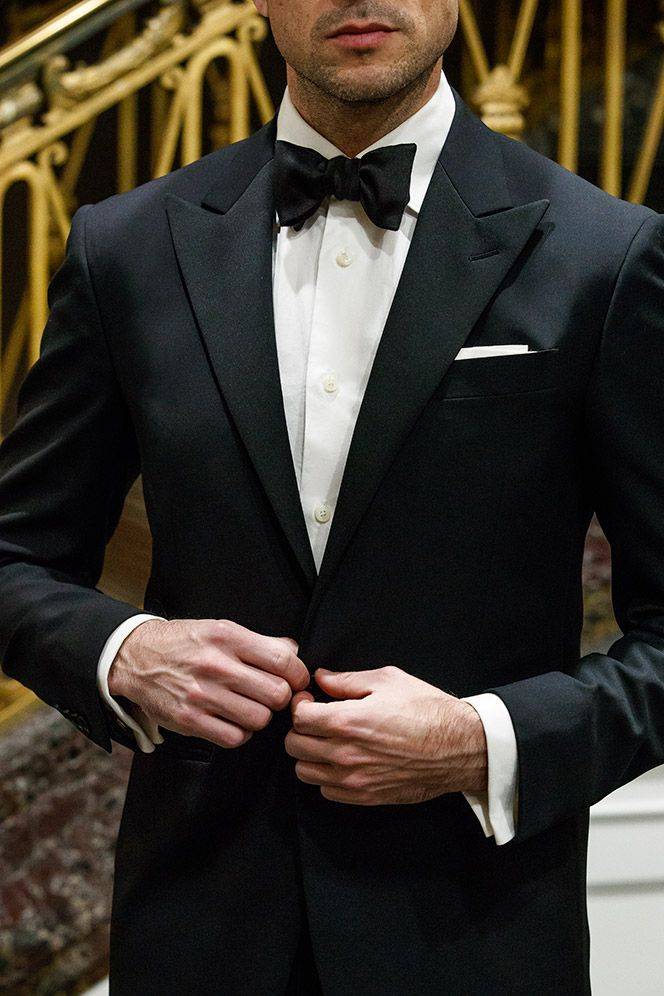 Black Tie is usually seen at balls, galas, and formal weddings. The nice part about Black Tie is that it's simple - there are only a few acceptable options.
For your tuxedo blazer (yes, Black Tie means tuxedo), you have the option to choose either peak or shawl lapels. Peak lapels are more popular, and they work well to enhance the broadness of shoulders and are universally flattering and work well with various body types and heights. Shawl lapels are sleek and minimalist and serve as a more stylish alternative at black-tie events.
Your trousers should match your blazer (unless you opted for a black velvet blazer) and be hemmed in a way that will elongate your proportions. Black tie trousers will also come with one line of braid down the outside of each leg (as opposed to two lines for a white-tie event).
As for your dress shirt, keep it simple. A classic white collared dress shirt is perfect for keeping things not only minimalist but timeless.
Your bowtie must be black and should match the silk or satin lapels on your jacket. But if you're wanting to experiment a little, you can try a larger sized bowtie or one with a different texture than your tuxedo jacket.
A waistcoat isn't strictly enforced with black tie events, but it does add some style to your tuxedo. To keep things classic, go with a traditional black waistcoat. And if you want to mix things up, you can choose a style with different textures or details. If you're really wanting to stand out, you can pick waistcoats with a darker hue (aside from black) as long as you don't go too crazy.
When it comes to your shoes, and similarly to shoes for a white-tie event, a nice pair of black patent leather dress shoes goes a long way. Oxfords are always a great choice, and to keep it classic, choose a pair with a slightly narrow, round-toed style.
A cummerbund is a word that you probably don't hear often, but it's the piece of material that sits at the bottom of your shirt and at the top of your trousers. Traditionally, this material is made from either silk or satin and matches your bowtie. If you opt for a bowtie other than black (which is traditional) your cummerbund must also match. All you have to do is place this item around the lower half of your waist and securely fasten it in the back.
In terms of accessorizing your tuxedo, you can opt for a nice satin scarf or pocket square, maybe add some custom cufflinks as well. But keep it simple - at black tie events, you're not meant to stand out from the crowd.
And there you have it, the main distinguishing factors between a White Tie and a Black Tie dress code. Now put your best face forward and show up to your next event with the confidence you've always wanted!
---