What Dress Codes Really Means
Finding the right suit to wear for the appropriate occasion can be one of the most challenging decisions a man ever encounters. You don't want to stand out for being overdressed, drawing unnecessary attention to yourself, and you also don't want to show up underdressed drowning in your insecurities. It's critical to hit it "just right" - not too dressy, nor too casual.

While formal and semi-formal events such a White Tie or Black Tie come with strict guidelines for men's suits, the rest of the dress codes offer more flexibility, which in turn can make things more complicated. So if you're looking to learn the difference between these less formal dress codes and how to properly dress for the occasion, you've come to the right place!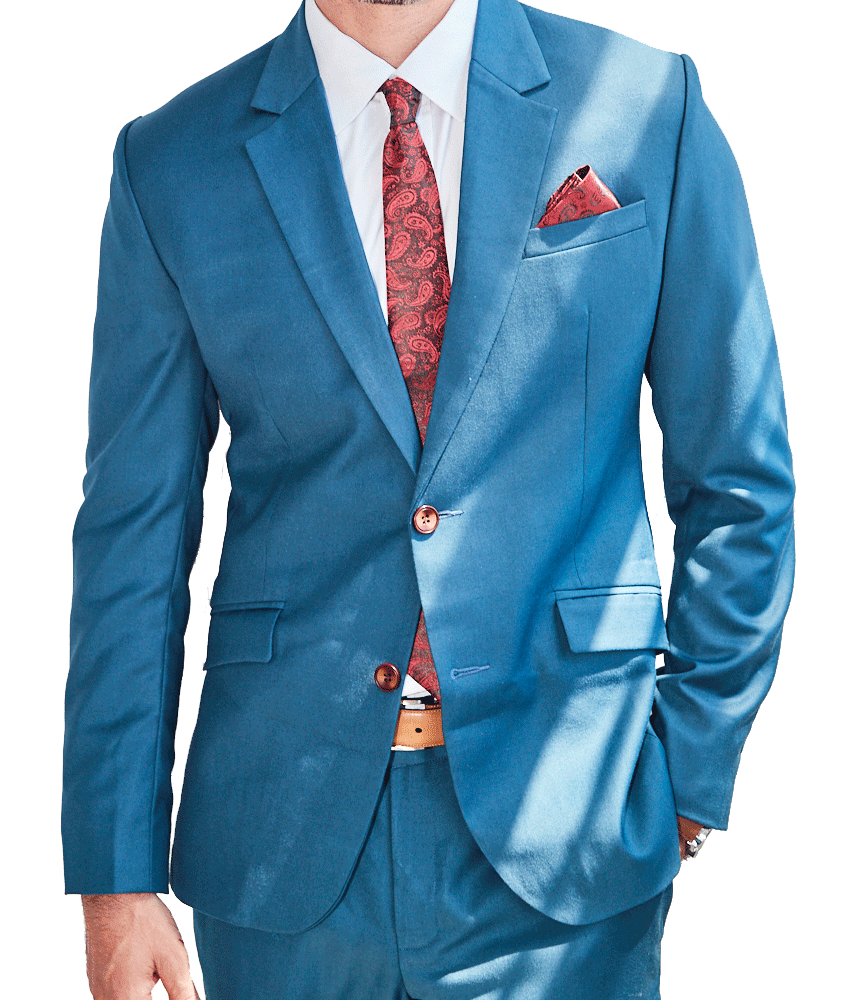 For men, all this really means is that you need a matched suit. And if an invitation specifically requested a business dress code, it's best to err on the side of caution and choose a dark solid-colored (or subtly pinstriped) suit.

For business attire, you have more freedom when it comes to your shirt, shoes, and tie. If you want to keep it simple and classic, stick with a nice white dress shirt and a conservative colored tie. Black Oxfords are always a good choice and pair well with a variety of suit styles and colors.
If it's a more social event, maybe a brunch or church outing, you could probably get away with a nice lighter grey or brown colored suit. But from my own personal experience, when someone requests business attire, they generally are referring to the more formal end of business suits.
Business Casual Dress Code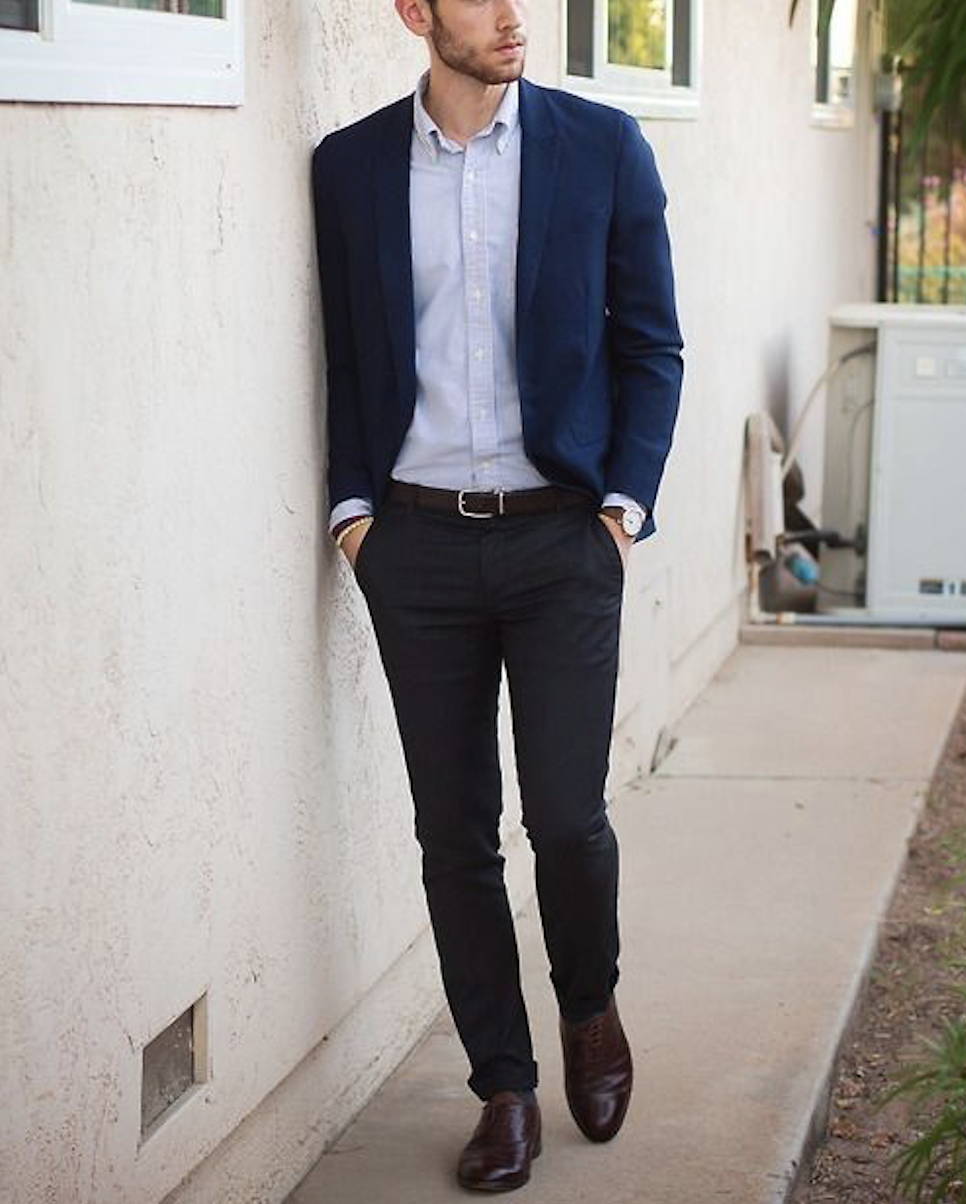 Business casual can sometimes be tough for men to figure out. You don't want to dress too formal, but you also don't want to risk dressing too casual. Some basic guidelines to adhere to are as follows:

Jackets are preferred but not required
Navy blue blazer paired with tan or grey slacks is one of the most common selections
Full suits are too formal
A safe bet is to wear a blazer without a tie.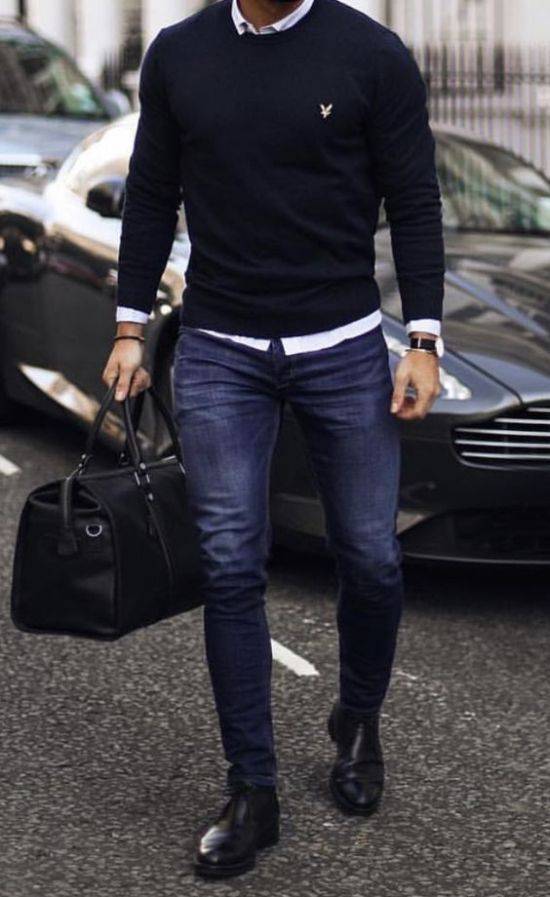 When it comes to casual attire, it can seem a bit open-ended at times. Usually if someone specifies a dress code (even casual attire), there's an expectation of getting dressed up more than usual (sorry, no sweatpants or athleisure wear).

The good news is, you don't need to worry about wearing a button-up shirt or necktie, but a nice casual jacket is always acceptable. And while a dress shirt isn't necessary, a nice collared shirt is still preferred. Dress pants aren't necessary either, however, if you opt for jeans, make sure they're dark (not faded and no rips or holes) and fitted properly.
As for your shoes, leather is still preferred. The goal for your casual attire is to be comfortable, but still showing people that you put an effort into your appearance.
When you receive an invitation with an optional dress code, it will usually be referencing a formality, i.e. "business dress optional" or "black tie optional."
This usually means the hosts plan on dressing in accordance with the listed code but don't necessarily want to force others to meet their standards (if for example, it's a "black tie optional" event, the hosts don't want to force everyone attending to go rent a tuxedo or other attire needed). Making the dress code optional is a great way to encourage guests to dress up without excluding the guests that choose not to.
However, while attending a "dress code optional" event, never dress above the listed optional dress code. For example, you wouldn't wear a white tie to a "black tie optional" event. Not only would you be extremely overdressed, but dressing nicer than the hosts can be viewed as disrespectful and distasteful.
If you're ever unsure about a dress code or it wasn't listed on an invitation, it never hurts to reach out to the hosts and ask. Not only will the hosts appreciate you asking, but this ensures you come prepared in the proper attire.

If for some reason you don't know the hosts or feel uncomfortable asking them, try asking other attendees to get a sense of what they will be wearing. When in doubt, always err on the side of caution and arrive a little overdressed. As mentioned earlier, you can always take off some accessories or clothing items if you're too overdressed, but you can't go back home to change your outfit.
And just like that, you're all set to attend any and all events that come your way!
---