Color Coordinating The Wedding Party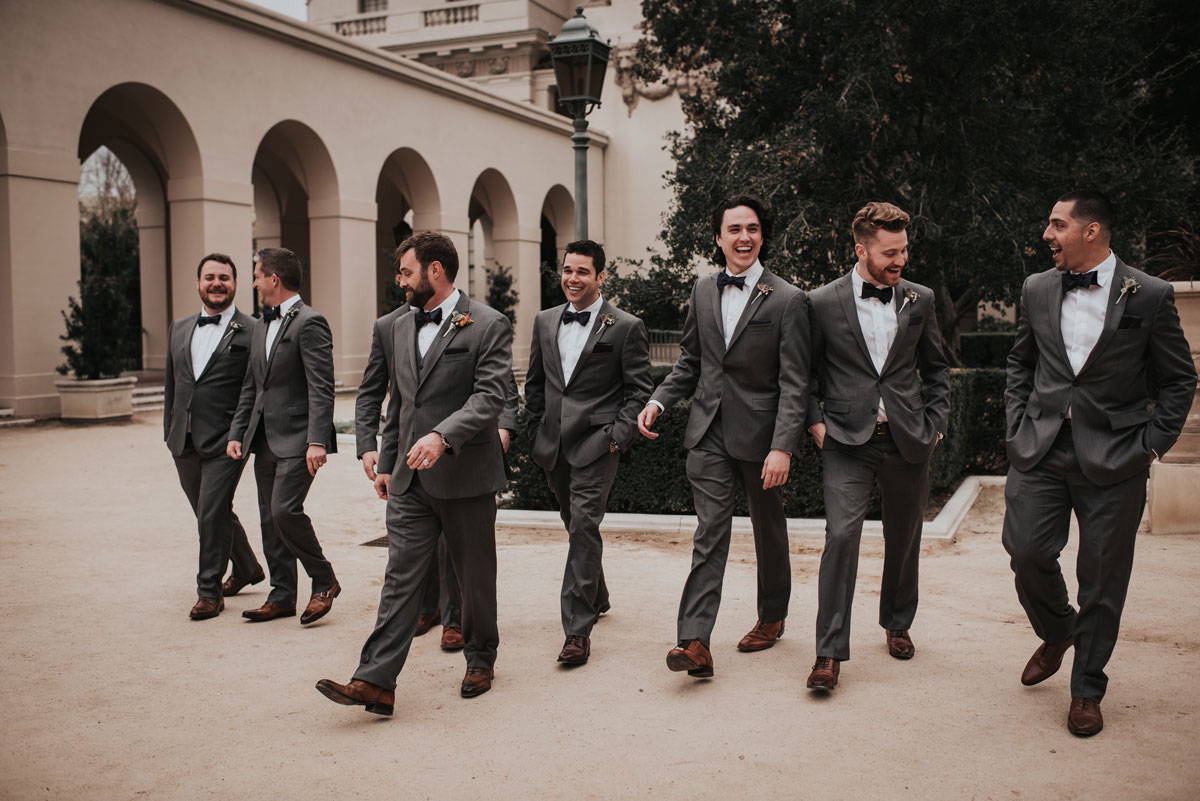 The modern wedding comes in many varieties of themes and styles, from the glamorous to the classical to the unconventional. And one thing is for sure, they're events that are more fashion driven than ever.
No longer are couples confined to the traditional constructs of a "big white wedding" or a "black tie event" - sure these are still the dream for many, but couples now have endless possibilities at their disposal. Brides and grooms are not only eager, but encouraged to show off their personalities and embrace their formalwear fantasies in the form of the dress code they choose for their big day.
Color plays a crucial role in this code - a palette personally chosen by the bride and groom to fit the vibe and setting of the venue. The color of the bridesmaids dresses has long been an important decision to make - but as men's wedding attire options expand, choices are now abundant on both sides and coordinating them correctly is of increasing importance with larger variety in color palettes.
So how can you make sure your wedding party is synced up and on point? Below you'll find tips on how to color coordinate your bridal party with your groomsmen, and what details you should be paying close attention to that'll make sure you nail the colors for your entire party come the big day.
Identify Primary & Secondary Colors
No shock here, but the first thing you want to do is set out the color palette and overall theme of your wedding. The colors you choose are going to be ubiquitous on the day, so you want to make sure they're perfect. Pinterest and google are a great starting point for finding inspiration and visualising your preferences.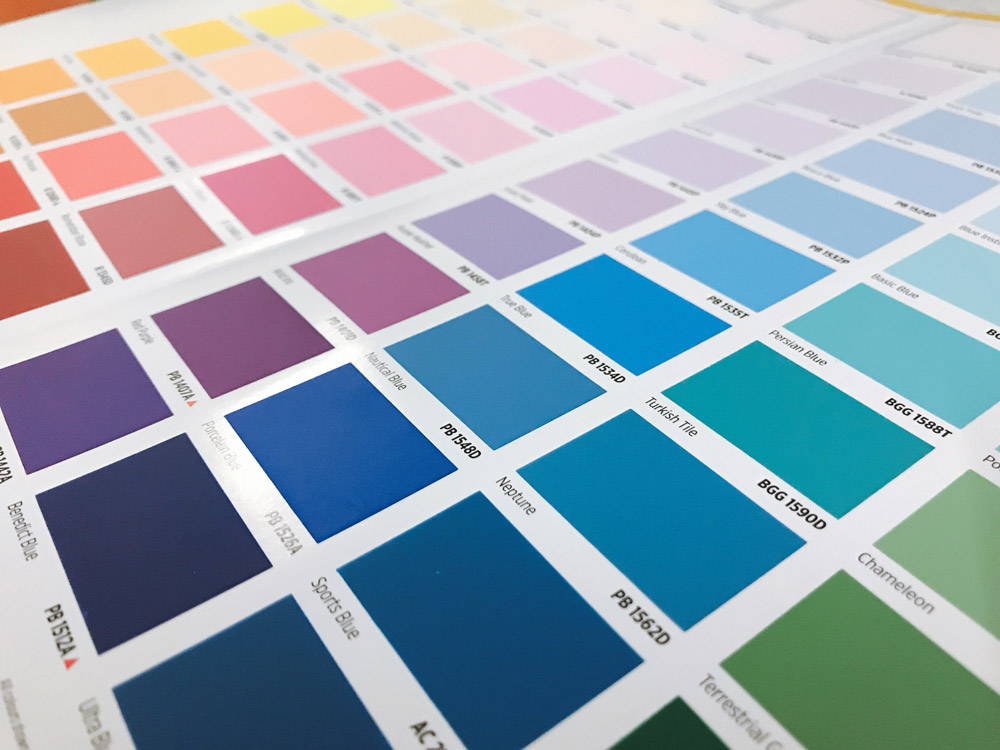 With niche custom brands like Sartoro offering many colors to choose from, narrowing your palette down can be daunting. Start by identifying primary and secondary colors. We recommend aiming for around 2-4 colors to make up your final palette - with 1-2 of these being primary. This gives you flexibility and enough room to settle on colors you both love.
Avoid Primary Color Overuse
Once you've decided on your palette, it's likely your primary color will be used for either the bridesmaid dresses or the wedding parties suits. We recommend avoiding using that same color for both.
Now bear in mind that neutral colors for the suits are always going to be easier to coordinate. Blues, blacks, greys and navy's are a safe bet - but don't feel like you have to limit your options. Just remember the more unique your choice, the more you'll have to pay attention to how to coordinate the colors.
If you're looking to stick to tradition and keep your choice more neutral then darker colors are going to work best - our Bond Jet Black Twill Tuxedo and Astor Deep Blue Sharkskin Suit below are both are timeless and guaranteed to work with almost any color. You have the more formal option in the tuxedo but either choice will have you looking immaculate and can be a staple of your wardrobe long after the wedding.
Looking to break tradition and opt for something more contemporary? Refer to your color palette first. You know that all the colors you've chosen work together and it's likely you'll be able to find a color that will work amongst them, especially when shopping bespoke. Feel free to be a little bolder here as you have a little more freedom to branch out from the greys, blues and blacks. Something like the Astor Sacramento Green Sharkskin Suit or the Montauk Cedar Brown Flannel Windowpane Suit will certainly break that traditional mould while still easily coordinated with a number of different colors.
Once you've settled on a color for the suits, an option usually at the top of the coordination checklist is matching the men's accessories with the bridesmaid dresses.
Ties, pocket squares and vests are a great place to start. If you're going bespoke, Sartoro can even match the buttonhole colors. Plenty of options are out there depending on how far you want to go, but matching the accessories will ensure an elegant and cohesive look without going overboard.
An alternative to matching the accessories with the bridesmaids dresses is to pick one of your secondary colors to utilise instead. As mentioned, having a mix of primary and secondary colors in your palette allows for a little more flexibility and creativity. So choosing one of you're complimenting colors could be the way to go.
Without being too neutral, it's a great way to incorporate some of those more subtle colors that will come through in other elements of your wedding - such as the flowers, table decorations or other parts of the decor. This can also prevent the primary colors feeling too overwhelming.
Yes you read that right, you can still achieve coordination by promoting individuality. You've most likely seen this trend before in mismatched bridesmaids dresses - a collection of different style dresses in a similar but not identical shade of color.
This adds dynamic to the overall theme and offers a little freedom for bridesmaids to find a style that they feel comfortable in while not having to worry about the impact it'll have on the rest of the party. To an extent this can also be implemented among the groom and his groomsmen too.
Now here at Sartoro we often recommend that the wedding party suits match in not only color but the same fabric too. The photos will look great. But it's not the only way. Similar to the mismatched dress trend, you can give your groomsmen that stylistic freedom to pick a suit style that suits them.
Whether that's with wide peak lapels, a 3 button or a double breasted jacket. Give them a little direction of your vision so they have an idea for color and to reduce the chance of a groomsmen rocking up in a suit that throws the entire vibe off. Sartoro offers a range of suit types and configurations in a variety of complimenting shades that would help promote (coordinated) individuality if this is your chosen route.
One step further would be to switch up the groom's suit, tie, pocket square or vest for a different color altogether, still in keeping with your chosen palette. This way the groom can stand out from his best men in coordinated fashion. This can be applied to the best man's suit too or father of the bride to signify a particular role! Check out how this groom opted for a contrasting vest, tie and pocket square to his best men.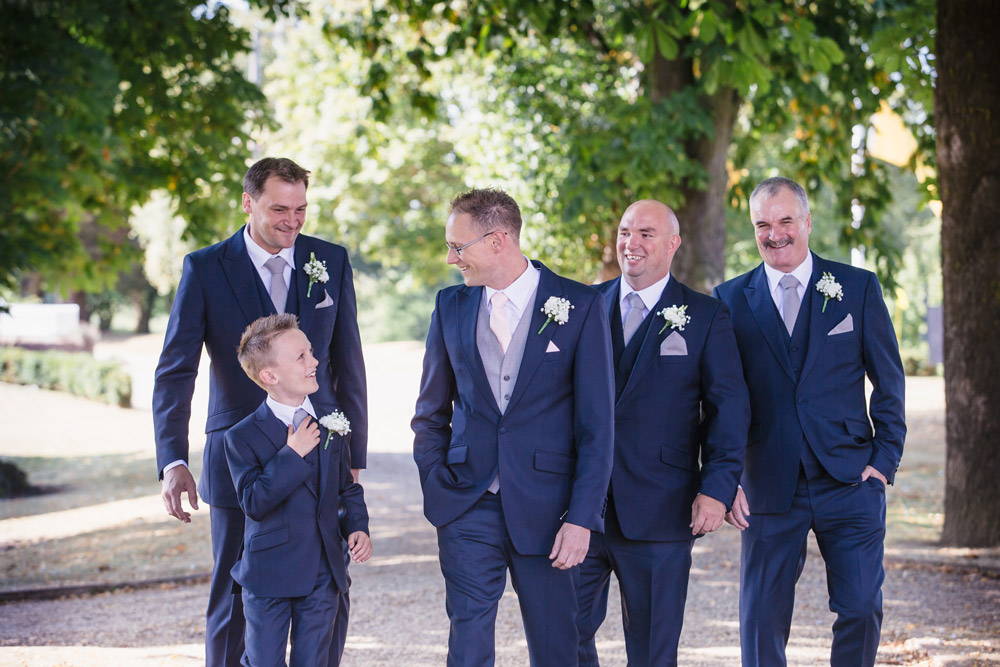 Once you've decided on your dream colors and what role you want them to play on the big day, the next step is to start exploring your options. Get the search for the groom and groomsmens attire started and figure out which fabrics and patterns are available that will work to your vision.
Swatch books are a great way to do this - at Sartoro you can choose up to 15 fabrics and the cost of the book is reimbursable off your next purchase. Or if your wedding planner referred you to us, ask to borrow their books - they contain every fabric in our standard collection!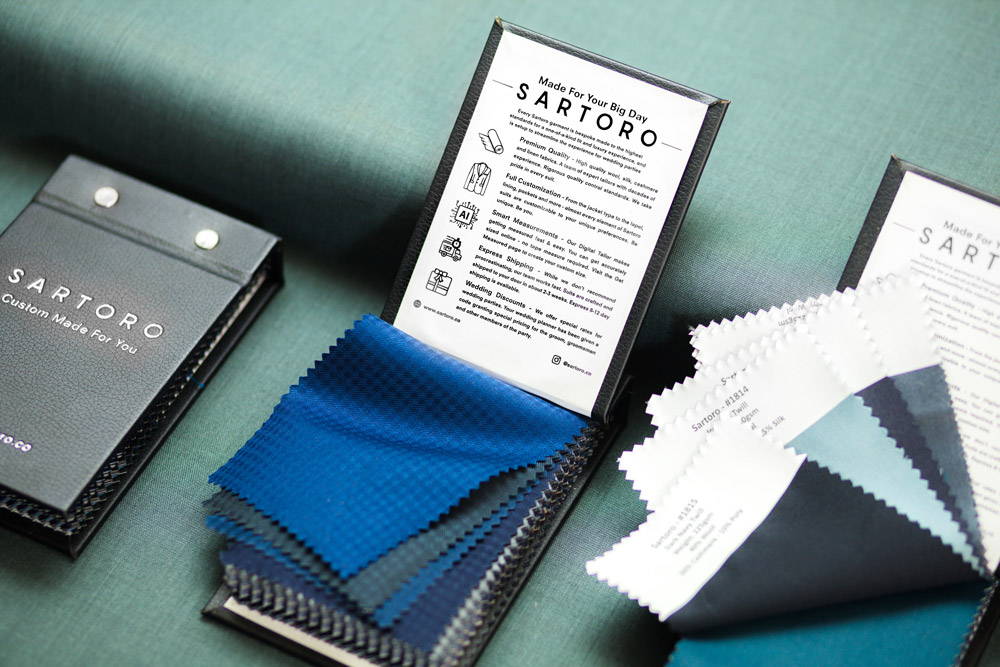 Along with swatch books, you'll want to see how a fabric will look on different suit configurations and piece together the various elements that will create the final ensemble. Our Wedding Guide explains how the process works with Sartoro for wedding parties and our Lookbook is full of inspiration with 27 designer crafted looks.
So there you have it, a comprehensive guide of how to perfectly color coordinate your wedding day. Hopefully you'll find these tips useful and put them to good practice in your own search for your dream wedding looks.
All the best and good luck with your search!
---